Safely Relocate Your Home
With Professional Mobile Home Movers
To say that moving a manufactured home is tricky would be a bit of an understatement. In fact, the process involves so much precision, skill, and heavy equipment that it's one project you should never attempt on your own.
When it comes to relocating what may be your biggest investment, trust no one but the experts at Maintenance Plus to get the job done right. 
When you're ready to move your home, make sure it's being placed on a solid foundation. In addition to moving manufactured homes, we also set up pier foundation systems, concrete slabs, and even basements that are designed to support your home structurally—and even help you secure financing.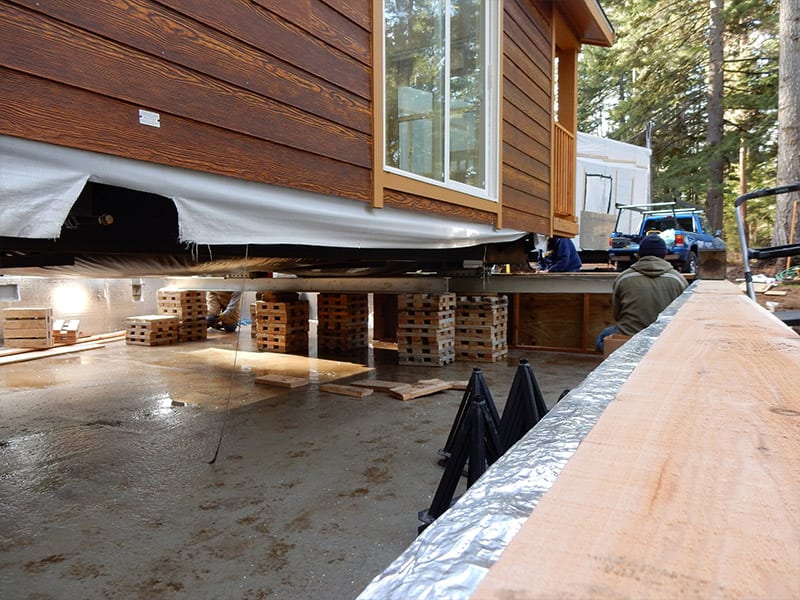 Frequently Asked Questions
About Moving a Manufactured Home
Make no mistake: moving a mobile or manufactured home is a huge undertaking. That's why you should only enlist the help of skilled mobile home movers who are licensed and certified to move and install manufactured homes. 
There are many factors to take into consideration before moving a manufactured home. The number one factor that impacts a home's mobility is its age. Due to increasing quality and safety regulations established by the Department of Housing and Urban Development (HUD), manufactured homes are built better than ever these days. But older homes may not be structurally sound enough to move. 
If you're unsure whether your home can or should be moved, contact us and we'll be happy to give you our advice at no charge. 
For the vast majority of moves, the furniture does not need to be removed. However, it does need to be secured, and you should remove as many personal effects as possible to prevent damage and decrease the overall load.
The costs for moving a manufactured home vary greatly depending on the size and weight of the home. If you are considering moving your home, contact us and we'll be happy to give you an estimate.
The Mobile Home Moving Process
From Start to Finish
A lot more goes into moving a manufactured home than most people think. Here's an overview of the process, so you'll know what to expect. With the exception of packing your belongings, we handle all of this for you when you work with us to move your home.
Secure Permits

We'll make sure you've got the permits you need for moving, gas, electrical, and anything else required by local municipalities. 

Pack Belongings & Secure Furniture

You'll want to secure anything that could be damaged in a move.

Contact the Zoning Department

We'll make sure we're up to date on your city's regulations about moving and placing a manufactured home.

Purchase an Insurance Policy

We're insured to protect you against liability in the event of an accident during the move.

Disconnect Utilities

We'll contact the appropriate agencies to disconnect gas, water, electric, and any other utilities.

Remove Skirting

We remove the skirting so the mobile home movers have full access to the underneath of your home.

Remove Tie-Downs or Anchors

If your home is anchored, those are the last we remove before your move.
Anchor the Home

We make sure your home won't tip over in bad weather.

Schedule Inspections

Local regulators will want to know your home was installed by a professional.

Connect Utilities

Utility professionals will set up gas, electricity, and water at the new location.

Re-Install Additions

Any awnings, skirtings, or other additions will be re-installed.